If you are looking for the best home security system, then you will undoubtedly come across Vivint Home Security and SimpliSafe. What do these companies offer, and which of the two should you go for? Read on to find out which security system is perfect for your home.
Vivint Home Security
Vivint has a home security system that includes sensors, cameras, and home automation options.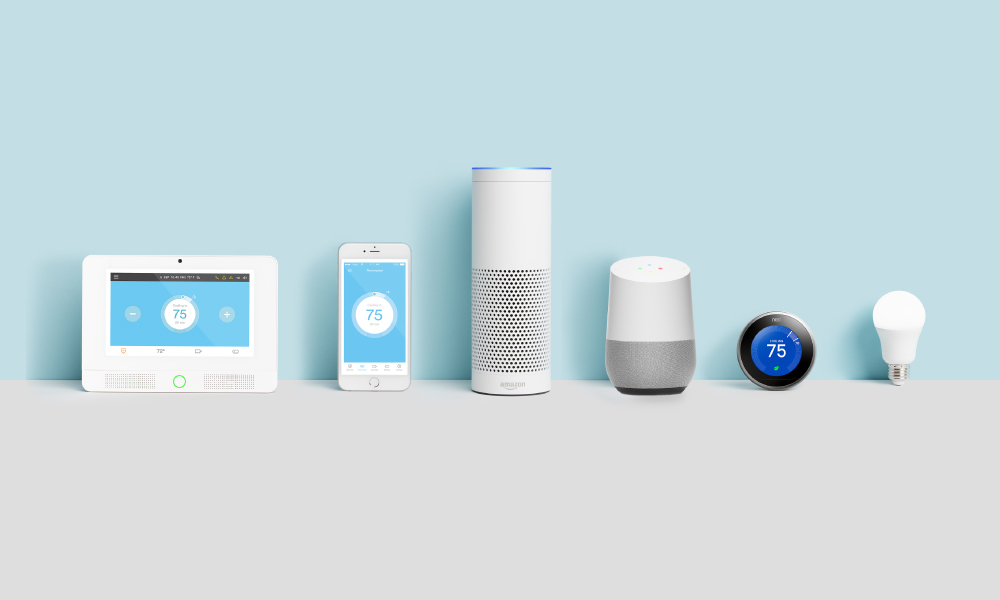 Vivint Doorbell Camera
Vivint's Home Security package starts by protecting your doorstep. You have the Vivint Doorbell Camera, which detects movements. The motion will trigger the camera to record automatically and it will notify you if someone is at the door.
The camera has a wide 180-degree angle lens that can capture everything in front of it. It also has night vision that can capture clear videos even at night. It also has two-way communication that allows you to scare off would-be burglars or talk to your visitors at the door even when you are halfway across the world.
Vivint Smart Locks
You can now unlock or lock your front door from wherever you are with Vivint Smart Locks. If you always worry about whether you've left the door unlocked, then this one is perfect for you.
You get notified if you leave your door unlocked, and the best thing is that you can do something about it. You can also leave your keys at home and just use the PIN code to unlock your door. The best thing is that the Vivint Smart Lock works with other connected devices. For instance, once you unlock your door, it will disarm your security system, turn up the temperature, and turn on the lights automatically.
Vivint Outdoor Cameras
You can also keep an eye on your family and home with the Vivint Outdoor Cameras. Each of these high-definition cameras gives you videos with 1080 pixels and HD zoom. It captures a wide 140-degree view, 24/7.
It also uses the company's Smart Sentry technology, which can identify what the camera is seeing and alert you when there are real threats. In short, this outdoor camera doesn't just record theft and burglaries, it can stop them, too.
Sensors
Vivint works with sensors that help keep an eye on things where a camera doesn't seem able to do the job. There are sensors that can detect when a door or window is unexpectedly opened, when there is movement around or inside your home, or when a window breaks.
There are also sensors that can protect your home from environmental threats like fire and flooding. You can connect smoke, carbon monoxide, and water sensors to your Vivint system.
When triggered, these sensors will alert you through the Vivint hub or via the companion app. It will also call Vivint's monitoring professionals for help.
Vivint Smart Clips
With the company's cameras, you have the option to watch the live stream. Or you can watch the 20-second recordings. These cameras will record things automatically when motion is detected.
It also has two-way communication that you can use to scare away unwanted visitors. You can even specify which areas it can detect so that you do not jolt every time a car passes by your busy street.
Professional monitoring
Vivint also offers professional monitoring to keep an eye on your home even when you can't. It comes with round-the-clock monitoring, with live humans tracking your sensors. Whether it's a home invasion or an environmental threat such as flooding, carbon monoxide, fire, or smoke, you can get help with just one callout button. You get connected to monitoring teams instantaneously.
What You Would like About Vivint Home Security
Vivint is a good choice for those who want a smarter home. It uses a 100-percent wireless system that can keep intruders out. It helps that these devices look really good, with a modern and contemporary design. You won't have a problem leaving these devices out in the open where visitors can see them.
Vivint's strong points are in home automation. It secures your home, while also playing well with others. You can even use voice recognition to control it.
What's more, Vivint offers features that you have come to expect from the best devices. For instance, their cameras have 1080-pixels HD resolution, two-way communication, motion sensors, and night vision. What's more, it can protect you both from intruders and environmental threats.
What Might Turn You off with Vivint Home Security
While offering you convenience and peace of mind, the Vivint system might prove more expensive than the average home security system. What's more, you will be locked down with a long-term contract with Vivint. It also requires professional installation, and there is no way for you to go DIY.
The Final Word About Vivint Home Security
There is no question that Vivint has thought out everything about its home security offering. It offers you total protection for your home. It has a lot of good features and it allows you to enjoy the latest technologies. These devices also look great.
However, you may need to look elsewhere if you want a system that you can install by yourself, or if you do not want long-term contracts. If you are renting your space, Vivint might not be ideal for you.
SimpliSafe
SimpliSafe takes its name to heart and provides you with simple security systems that you can install yourself. All you need to do is to choose a package and then get additional sensors and cameras for comprehensive home protection.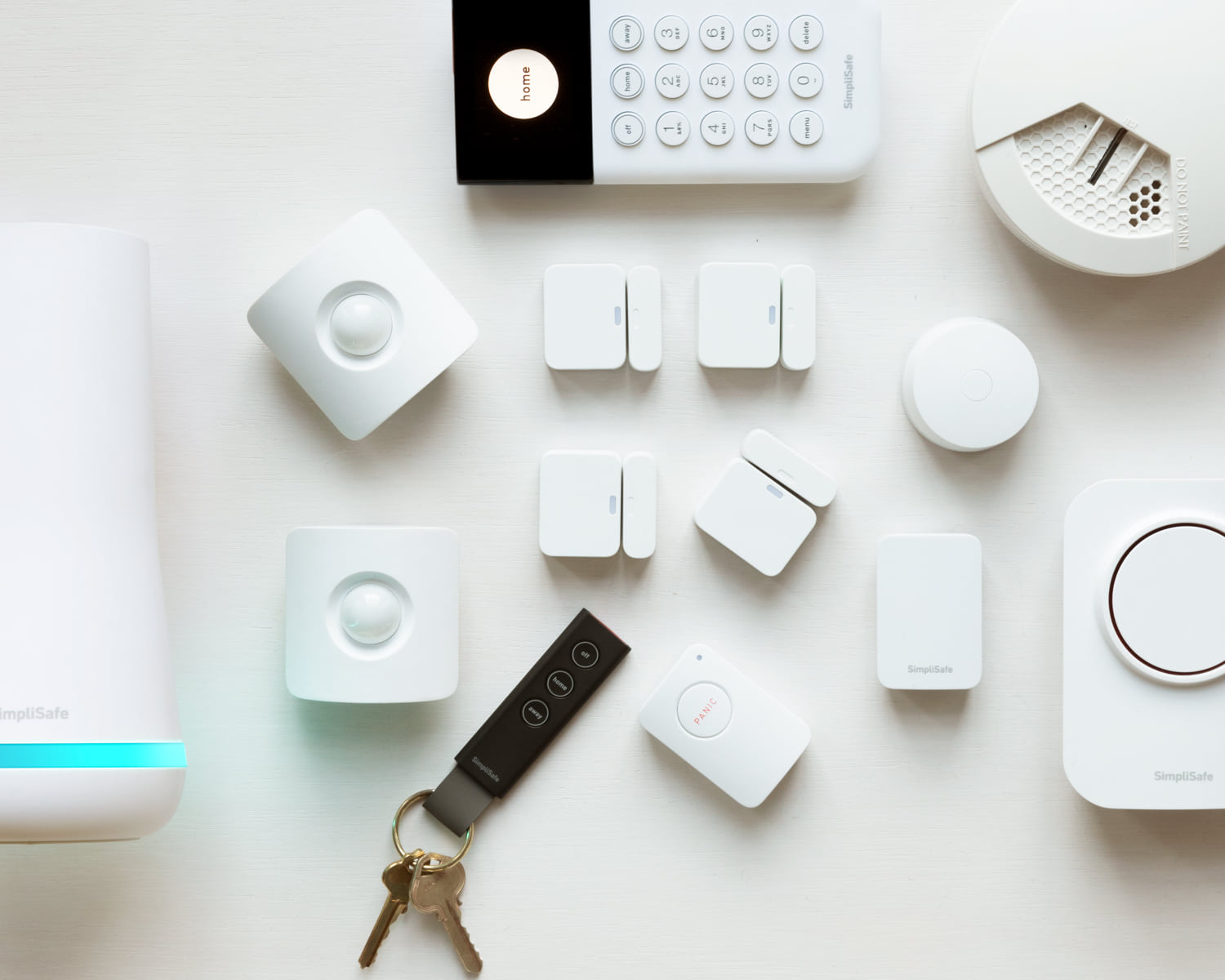 The packages
There are five packages under the SimpliSafe umbrella, and these packages come with the base station and some sensors. Choose a package that corresponds to your needs. Your options? The Haven, The Knox, The Hearth, The Essentials, and The Foundation.
If you do not want to set these up yourself, you can opt for professional installation for cost.
Perfect for larger homes, The Haven includes a key fob, four entry sensors, two motion sensors, a 105-decibel siren, a panic button, a freeze sensor, a water sensor, and a smoke detector. This way, you can be protected from intruders and environmental threats.
The Knox is for those who have homes with lots of doors and windows, with its six entry sensors, two motion detectors, a key fob, a smoke detector, and a 105-decibel siren.
This package is for medium-sized houses with its three entry sensors, a motion sensor, a keyfob, a siren, and a smoke detector.
This package includes three entry sensors and a motion sensor.
Just as the name implies, you get an entry sensor and a motion sensor with this package.
Sensors and cameras
At the heart of the SimpliSafe system are its sensors. SimpliSafe makes it easier for you to get total home protection without paying for sensors you don't need. The company offers a wide range of sensors for you to choose from:
Entry sensor. It alerts you when doors or windows are unexpectedly opened. These are especially recommended for back and front doors, as well as first-floor windows. Or windows that are easily accessed.
Motion sensor. It alerts you when it detects movements inside a particular room. This sensor is a better choice for rooms with three or more windows or doors. The good news is that your pets will not trip SimpliSafe's motion sensors, so you don't have to deal with a whole lot of false alarms.
SimpliCam. It allows you to keep an eye on your house. You can view the live stream from your phone, computer or tablet. The camera also detects movements.
Glassbreak sensor. It alerts you when a window is smashed.
Panic button. If an intruder comes in and you're at home, you can use this to instantly set off the alarm and have the police come to your home.
Smoke detector. It helps keep you safe from fires. It will also activate your siren, waking you up just in time for you to get out.
Temperature sensor. It alerts you when the temperature drops below 41 degrees Fahrenheit. This sensor helps keep your pipes from freezing.
Water sensor. It alerts you when it detects water leaking and saves you from floods and water damage.
Aside from these sensors and cameras, you can also add an extra keypad, key fob, siren, and a yard sign.
Professional monitoring
SimpliSafe allows you to choose and install your own security system. The modular setup allows you to buy and use only the sensors that you need. You can use it as is, but if you want to get the most out of your system, then you should sign up for professional monitoring.
There are three tiers for 24/7 monitoring: Standard, Interactive, and Pro Superior.
You get 24/7 professional monitoring, complete with a cellular connection, and environmental monitoring.
You get everything you get with a Standard plan, plus the ability to use the mobile app to arm your system from anywhere in the world. You also get alerts on your phone, secret alerts, and video alarm verification. Furthermore, you enjoy unlimited camera recording and smart home integration.
You can use voice commands to control your security system with Amazon Alexa or Google Assistant. You can also keep an eye on things using Apple Watch. And if you have August locks, you can add them to your SimpliSafe system as well.
With the Pro Superior plan, you get every feature and functionality offered at the Interactive tier. You also get free professional installation and a yearly maintenance checkup. You also enjoy VIP customer service, where you do not have to wait long before somebody answers your concerns.
What You Will like About SimpliSafe
SimpliSafe really makes it very easy to secure your home. It's affordable as well. Everything is easy to install, and you can get your home security system up and running within an hour.
SimpliSafe offers a lot of sensors, helping keep you safe not only from burglaries but also from environmental hazards. You can even put up security cameras indoors.
What's more, SimpliSafe does not bind you to any contract. You can get professional monitoring on a monthly basis. And because you buy the equipment upfront, you do not have to worry about financing it.
What Might Turn You Off with SimpliSafe
SimpliSafe has its own propriety equipment and sensors. It's not much of a problem because the company has everything covered, so they offer a sensor for every imaginable threat that you might want to monitor. The problem is that SimpliSafe does not work well with other connected devices.
This lack of connectedness works against SimpliSafe if you have a smart home. What's more, you cannot get alerted unless you pay for a professional monitoring plan.
Final Say About SimpliSafe
If you are renting your place, then SimpliSafe is ideal for you. It does not require you to have long-term contracts and everything is wireless. This means that you do not have to lay down wires. If you need to move, you can take the entire system with you.
If you like DIY home security systems that are headache-free and simple to install, then look no further.
Comparing Vivint Home Security and SimpliSafe
It should be clear right now how SimpliSafe differs from Vivint. SimpliSafe keeps things simple by offering DIY installation and keeping the integrations down to a bare minimum. SimpliSafe keeps it all in the family, so to speak, where each device that can go on the system comes from SimpliSafe.
Vivint, on the other hand, offers a lot of home automation and smart home capabilities. You can have it work with your connected devices such as smart lights, locks, and appliances. You can also control it using Amazon Alexa and Google Assistant. However, it needs to be professionally installed.
Renters will do well with Simplisafe, while only homeowners will benefit from having Vivint installed. For some renters, Vivint will be totally out of the question.
Sensors and devices
When it comes to sensors, these two companies pretty much offer the same kind of protection. For home invasion, they have entry sensors, garage door sensors, glass break sensors, and motion sensors. Both systems also have a crash and smash protection, in which both will still be able to alert the professional monitoring company even when the intruder has destroyed the home base.
Both companies also offer protection against environmental threats such as fire, carbon monoxide, flooding, and freezing.
However, Vivint has more cameras, including tilt and pan cameras and their own doorbell cameras. Another difference between these two companies is the design of their devices. SimpliSafe opts for a more muted and minimalist look, while Vivint has better-looking modern devices.
Professional monitoring
Both offer 24/7 monitoring, but you should know that SimpliSafe outsources its monitoring to another company: COPS Monitoring. Vivint does its own monitoring.
Another thing, you can opt to monitor your SimpliSafe system yourself. This is something that Vivint doesn't offer.
Pricing
SimpliSafe requires you to buy the equipment up front, and this may cost you at least $196 for the lowest package. Vivint allows you to avail of financing options but it comes with a long-term contract, sometimes locking you down anywhere from 42 to 60 months.
SimpliSafe also has more affordable devices than the Vivint Home Security.
SimpliSafe has a 60-day money-back guarantee, while Vivint comes with a short trial period and a month-to-month contract if you purchased the equipment upfront. If you did avail of the financing option, you will not be able to cancel until the required lock-in period lapses.
SimpliSafe is pretty much transparent with its pricing. You can find everything on its Web site. Vivint has been previously criticized for requiring interested homeowners to ask for a quote before knowing how much they are going to spend on the system.
Further, SimpliSafe offers a three-year warranty on its accessories, sensors, and system. Vivint provides a lifetime warranty for theirs.
Smart home integration
Vivint leaves SimpliSafe in the dust when it comes to integrations. SimpliSafe only works with Amazon Alexa. Vivint works with Google Assistant, Amazon Alexa, IFTTT, and Z-Wave devices.
The Final Word
Vivint Home Security and SimpliSafe offer the same top-quality devices and monitoring, but there are differences that might make you choose one over the other. Renters, DIYers, and those who do not want long-term contracts will do well with SimpliSafe.
Meanwhile, those who want top-notch technology that looks great, and those who have a smart home will be better off with Vivint.